About Danny Yale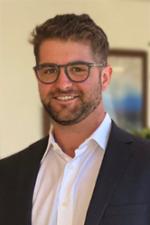 Danny Yale
Contact Information
Mobile: 214.995.2734
NMLS #: 1983926

Office Address
7001 Westwind Dr. Suite 105
El Paso, TX 79912
A Texan, born and raised, Danny grew up in Little Elm and graduated from the University of Texas at Austin with a Bachelor of Business Administration and Major in Consulting and Change Management. With a knack for numbers and a desire to help people, Danny found his calling in the Mortgage Industry.
As a Licensed Mortgage Loan Originator in Texas, Arizona, Florida and Virginia, Danny has worked with hundreds of people in their search for home loan financing. His lending philosophy focuses on guiding clients through the lending process, educating them on their financing options and ultimately helping them to decide on the mortgage option best suited for their long term needs.
Danny is an Eagle Scout, and he volunteers regularly with a local Boy Scout troop. When he isn't in the office, you can usually find Danny on the golf course, spending time with his wife, Megan, and their dog, Lady, or on road the traveling to see family, friends and the next adventure
Check out Danny's professional youtube channel and Instagram for all things mortgage!